Top 5 Data Science Courses Online 2022
When internet exploitation was not that much developed, the data sources were limited. And data was quickly manageable without the intervention of machines and software. However, in the last decade internet has exploited the majority of the corners around the world; and due to this, nowadays, data is available in abundance. Though this is a good thing, due to the availability of enormous data sources, analyzing information is getting more and more complex. Now, here comes data scientists, professionals in analyzing large chunks of data sources to conclude solving problems. But which course should you register yourself in? To solve this problem, today, we're going to list out Top 5 Data Science Courses you can enroll online in the year 2022.
Also, data science is on the list of the top ten best jobs in the 21st century; so if you're planning to learn data science. Enrolling in an online course is going to make the learning experience easier and hassle-free.
Top 5 Data Science Courses Online 2022
If the above-listed courses don't excite you that much, then you must try enrolling yourself in the data science course offered by udemy. Apart from learning data science, you will also get hands-on experience with machine learning and deep learning using python.
Curriculum-wise, this is an intermediate-level course. So unless you don't have prior exposure to data science, we don't recommend you take this course. You get to learn artificial neural networks, K-means clustering, and many other advanced concepts of machine learning and data science.
The Course Content Contains :
Neural Networks and Deep Learning with Keras and TensorFlow
Transfer Learning
Image classification and recognition
Sentiment analysis
Multi-Level Models
Regression analysis
Multiple Regression
Random Forests and Decision Trees
A/B Tests and Experimental Design
Collaborative Filtering
Reinforcement Learning
Support Vector Machines
Feature Engineering
Hyperparameter Tuning, and more.
Duration: 14 Hours

Click Here To Enroll in Machine Learning, Data Science, and Deep Learning with an additional discount.
This course will introduce all the tools you'll need in the data science journey to you in this specialization course. Whatever you learn in this specialization course by Coursera is taught using real-world data sources.
Also, at the end of this course, you get to build a capstone project using all the skills you've learned so far. This course teaches students how to find real-world solutions using data science and machine learning.
The Course Content Contains :
Github
R Programming
Machine Learning
Data Science
Regression Analysis
Rstudio
Debugging
Data Analysis
Cluster Analysis
Regular Expression
Data Manipulation
Data Cleansing
Duration: 11 months.
Click Here To Enroll in Data Science Specialization Course with an additional discount.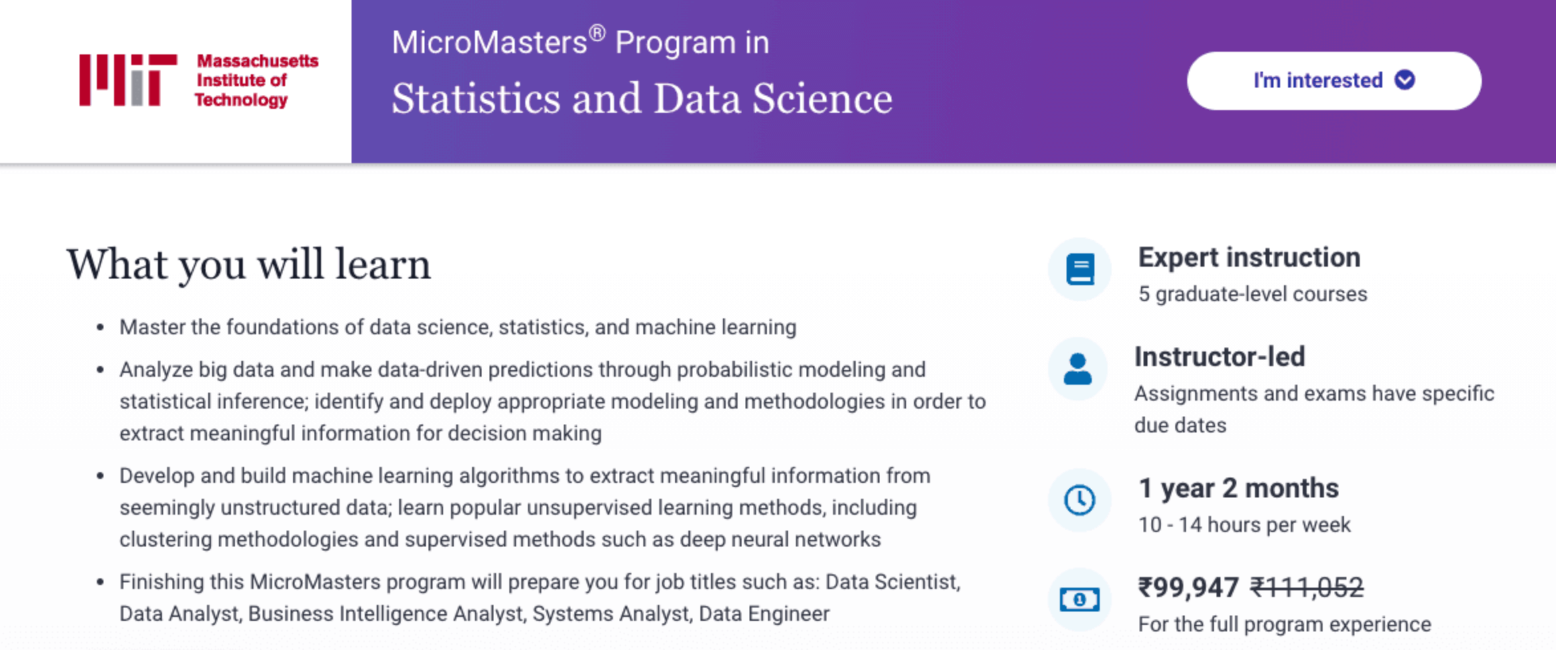 Learning data science also means you'll be learning mathematics alongside. So, this course is going to help you cover both aspects of learning data science. You are going to learn the foundations of machine learning & Statistics. If you aim to specialize in big data analytics, this course will benefit you a lot.
Alongside learning data science, this course will also help you make data-driven decisions and predictions via statistical interference and a probabilistic modeling approach. Concepts of probability, data analysis techniques are introduced in this course as well.
The Course Content Contains :
Probabilistic Models Introduction
Data Analysis In Social Science
Statistics Fundamentals
Machine Learning With Python
Big Data Analysis
Deep Neural Networks
Clustering Methodologies
Duration: 14 months.
Click Here To Enroll in the MicroMasters Program In Statistics and Data Science with an additional discount.
Offered by Harvard University, this data science course is exclusively designed for beginners. So if you have just started, taking this data science course will help you quickly understand the fundamental concepts of machine learning. Instead of covering advanced topics, this course covers all the essential issues to a deeper level. When taking this course, you will also learn to use data more efficiently.
The Course Content Contains :
Machine Learning Basics
Principal Component Analysis
Machine Learning Algorithms
Building Recommendation System
Regularization and its uses
Cross-Validation
Duration: 15 Hours
Click Here To Enroll in Data Science: Machine Learning.
Whenever learning data science, it's always important to look at things from a real-world perspective. With the help of HarvardX's data science professional certificate, you'll learn to analyze data from a more dynamic stance. Different essential components of data science are taught in this professional certificate. With the help of business-related case studies, you will learn how to use data professionally.
The Course Content Contains :
Data Science Basics
Data Science Visualization and Probability
Inference and Modeling
Productivity Tools
Wrangling
Linear Regression
Machine Learning
Capstone
Duration: 204 Hours
Click Here To Enroll in HarvardX's Data Science Professional Certificate with an additional discount.
Also Read: How To Become a Certified Java Developer Professional in 2022